High Flavored Locally Grown Apples for the Holidays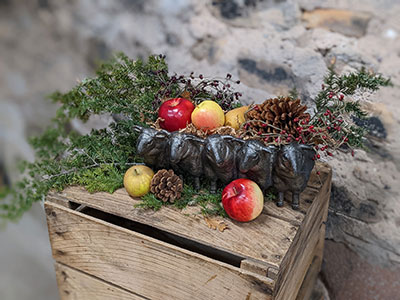 Stop in and pick up apples for gifts, snacks, pies, sauce, and more! We love to hear your favorite recipes. Here are a few recipes that were recently shared and a few that we've loved for a long time.
Recent Recipe Shares
Long-time Favorite Recipes

Waldorf Salad, Baked Apples, Danish Apple Cake (pdf)

Note: for the Danish Apple Cake, we usually double the recipe and use a sheet pan instead. We also cut the apples into smaller pieces and distribute them so that each piece of cake will have many bits of apple.
Varieties this week
Apples

Black Willow Twig
Cortland
Empire
Fuji
Gala
Golden Delicious
Golden Russet
Ida Red
Jonagold
Jonathan
Macoun
McIntosh
Red Delicious
Snow
Spartan
Tolman Sweet
Winesap
Small quantities of other varieties may also be available while supplies last
No apple cider this year: our cider pressing operation is still under construction and completion date looks like it will occur after 2022 ends but before the 2023 season.
We are open in Rochester (every day, noon until 5 p.m.), but we will be CLOSED for Christmas Eve, Saturday 12/24 and Christmas Day, Sunday 12/25